Los Cabos International Airport
Arrival Flights
1

Flight Information
Arrival flight information

2

Terminal information
Know the arrival terminals

3

Documentation
Documentation required upon arrival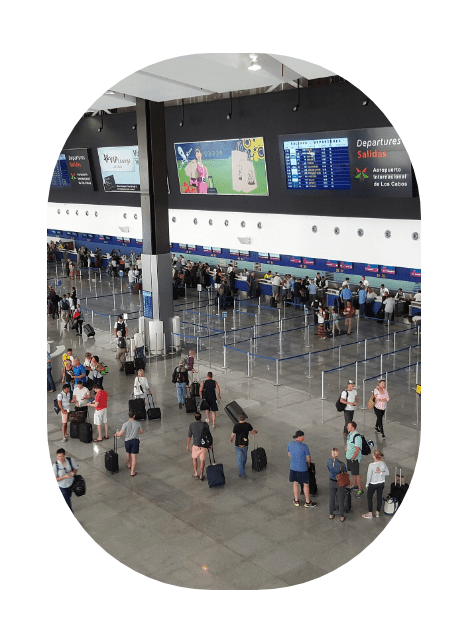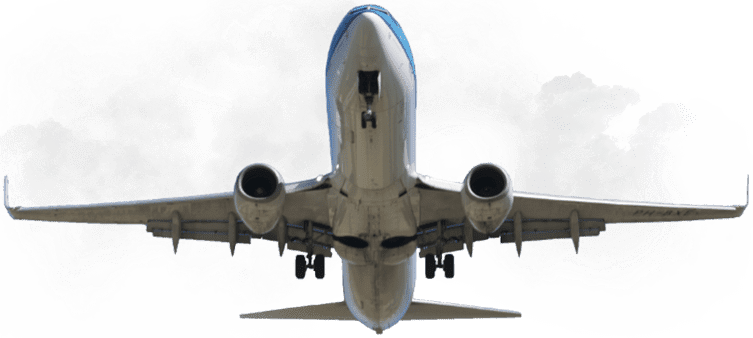 Arriving flights to Los Cabos International Airport
Terminal 1 Arrivals
Arriving flights to SJD's Terminal 1 are primarily reserved for domestic flights. Terminal 1 is a terminal with the essentials for travelers with brand new facilities, restaurants, Starbucks coffee shops and baggage claim. Once you arrive at Terminal 1 on your flight and exit your aircraft, you can enter the airport from the tarmac. At the Terminal 1 facility you will be able to pick up your luggage, use the restrooms. Here you will find car rental, shuttle and cab agencies.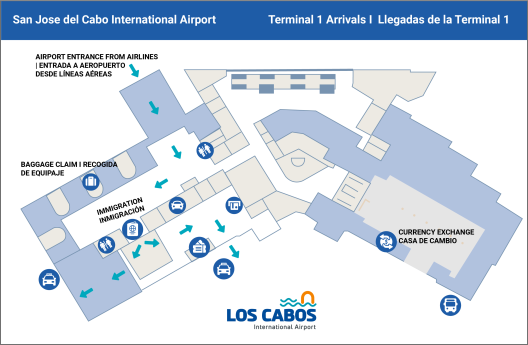 Terminal 2 Arrivals
Los Cabos Airport (SJD) is located in San Jose del Cabo. Terminal 2 receives international flights, upon arrival, your airline should have provided you with a Mexican tourist card and a Mexican customs form (one per family). This is required for customs and you are required to pay duties on any items that are not considered duty free.
*Note: No smoking or vaporizers are allowed on the airport tarmac or in Terminal 2. Also, no photography or video is allowed.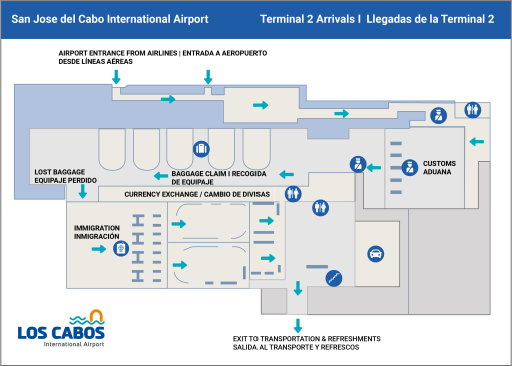 Terminal 2 Information
Once off the plane, you will travel along the airport runway to the entrance of Terminal 1 or 2 of the Los Cabos Airport depending on where your flights are coming from. If your plane landed far from the airport entrance, you will need to take a free shuttle bus from the runway to airport customs.
Los Cabos airport arrival shuttle bus to the entrance, if you do not have a tourist card or customs form you can purchase one. Here there are full restrooms with handicapped access. Continue down a hallway and take an escalator, stairs or elevator for the disabled to Mexican customs. As you approach customs please have your Mexican tourist card(s) ready along with your passport for inspection by the agents. The Forma Migratoria Multiple is an "admission document" issued to vacation visitors of certain nationalities. Although the tourist card (FMM) is also popularly known as a tourist "visa", it is not officially a visa. The tourist card application is available online if you wish to obtain it before traveling to Mexico.
The tourist card (FMM) can be issued for a maximum of 180 days and must be issued per person including children. Please keep your FMM card in a safe place as you will need it to leave Mexico. If you lose it, you will need to request a replacement with a penalty fee. Once you have cleared customs, your entry visa has been stamped and you can now retrieve your luggage. There are 5 baggage returns and all are subject to further inspection by the authorities. Free luggage carts are available in the baggage area. If you have oversized luggage, cargo or live animals, please proceed to the final baggage station. If there are questions or problems with baggage retrieval, please visit the counter at the end of the baggage area, where airline representatives from each carrier are there to assist you.
Note: ariporloscabos.com is not responsible for any damages or losses arising, directly or indirectly, from the use of flight information on airportloscabos.com. Flight information is updated based on operational data and estimates provided by airlines and third party sources. Please check with your airline to confirm all information. Current visa and immigration information may have changed - please check with the Government of Mexico for clarification.